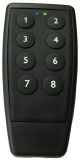 Radio transmitter C540
Art.no : 80-54000 - for CanCom receivers
Art.no : 80-54010 - for relay receiver 6DO
Description
Radio transmitter in plastic, a small and flexible radio transmitter that is well suited for basic applications.
The radio transmitter can be combined with the receivers in the CanCom family and can be used for mobile applications as well as industrial applications. Examples of mobile applications are handicap vehicles, horse trailers, etc. The transmitter and receiver are always paired with a unique ID code.
The transmitter is equipped with an internal antenna and 8 push buttons that are raised to easily be found through work clothes and in the dark. LEDs indicate if any function is actived and also operating status. The transmitter is powered by a rechargeable 3.6V battery and if the battery is low the transmitter will give you a warning. The transmitter also has a built-in charger.
The flexible software does the transmitter suitable for simple applications, as well as for monitoring applications with multiple functions. It is easy to program functions through the free software CanPro.