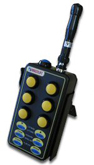 Radio transmitter HT12 and HT12-C443
Description
Radio transmitter and receiver in aluminium - a strong, robust, high-quality radio system with a long working life. Concrete trucks, petrol tankers/bulk transport trucks, fuelchip trucks, load switchers, loading machines, skylifts, winches, etc. are just some examples of the areas where this transmitter can be used.
The transmitter is supplied with an external antenna and 8 protruding push-buttons for easy location through work clothes, for example. There is a safety button located on the left-hand side to prevent accidental transmission. The transmitter has a range of around 150-300 metres, depending on the terrain, and is equipped with metal belt-clips. It also has a function select button that can be used to control another receiver, which means that it can be used to control up to 12 channels. The transmitter remains fully operational even when the battery begins to run down.
Hand controller HT-12 - 433,92 MHz (art.no 83-23000)
for Multimodules with built in radio
» Push buttons (12 functions)
» Dead man's handle
» Charge contact
» Chargeable battery and charger is available as accessories
Hand controller HT-12 C443 - 433,92 MHz (art.no 83-23000)
for Multimodules with built in radio
» Push buttons (12 functions)
» Dead man's handle
» Built in charger and Ni-MH battery
» CAN bus contact for cable control