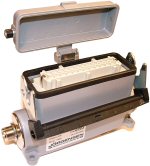 Power module CanCom
Art.no. 80-80600 
Description
The Multimodule is manufactured in a solid aluminium housing with a robust 24-terminal connection. All electronics are hermetically sealed to protect them against the hazards of
mobile environments, such as damp or vibration.
Mult modules are available in several variants, but common to all models is that they are robust and reliable. 
» CAN-bus connection for programming and connection to other CanCom products. 

» 8 digital outputs 

» Max 60A load for the entire module